Isn't that how the saying goes? I felt safe in saying 'never' however, after we had to put our Newfoundland down after 9 years of love and drool, that's precisely what I did. I'd just be content with our cats. I'd scoop litter and be happy with the independence of our felines. Yeah. That's the ticket.
But 'just for fun', I began scanning ads. People started making puppy offers. Problem parents approached me with problem dogs, hoping to foist their little four-legged terrors upon the broken-hearted - to no avail.
Then one day, this face stopped me dead in my tracks.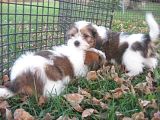 I've always been a large-breed kinda gal. "If it can't keep it's front paws on the ground when it barks - is it really a dog?", I'd ask. But the eyes....
I called the owner. Her Beagle escaped from it's brand new crate, and found his to his Bichon honey. The rest is history.
Carter, as our new pup is named, came home with us the evening of October 19th. We are currently crate training.
Oh....my name is MJ.