I've been putting this off for a few days, because I'm not quite sure how to put it. Don Gato, my big sweet "dog cat" is gone, he was hit by a drunk driver in our driveway. My brother was out with Don Gato and Itty Bitty Kitty and ran in to get me right away but it was already too late. I miss him like nothing else, and I'm sure I'll never have another cat like him, he was the single sweetest cat I've ever had the pleasure of being with. I'll always fondly remember the way he would beg for belly rubs, wrestle with the girls, cuddle, and just be a great boy all around. Itty Bitty Kitty is lost without him and my heart breaks for her, since he's been gone she's just been wondering around aimlessly looking and 'calling' for him. Life isn't fair and he's gone too soon for no good reason.
This is one of the last pictures I got of him, and it shows his personality perfectly. He was so patient with Annie and just really embodied love for everyone.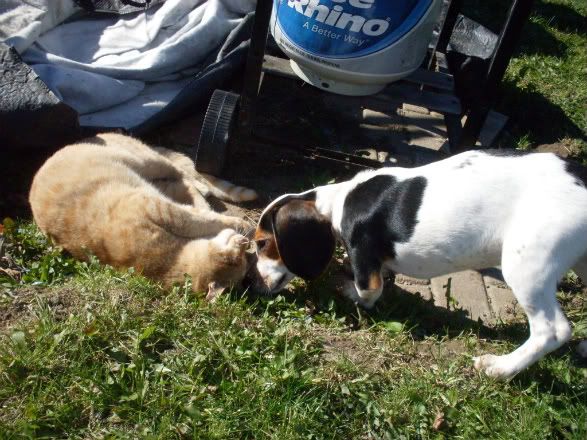 "I wanted a perfect ending. Now I've learned, the hard way, that some poems don't rhyme, and some stories don't have a clear beginning, middle, and end. Life is about not knowing, having to change, taking the moment and making the best of it, without knowing what's going to happen next."
RIP Bubba, I'll see you at the bridge.