..unfortunately, somebody named "Corgi Mommy" stole copyrighted photos of my dog, claimed them as her own, posted them to a gallery, and was selected as today's Puppy of the Day as "Artemis the Pembroke Welsh Corgi". This is all completely fabricated, and doesn't sit very well with me. However, I'm glad she's very well liked. Even though there are a lot of dishonest schumcks in this world, and having my photos stolen should make me much more reserved about ever sharing anything like this again, I'll still continue to post photos of her.
Puppy on the left: Claimed to be "Artemis" by "Corgi Mommy". Puppy on right? My dog Herbie, in a photo I took this morning. Funny how similar that patio looks!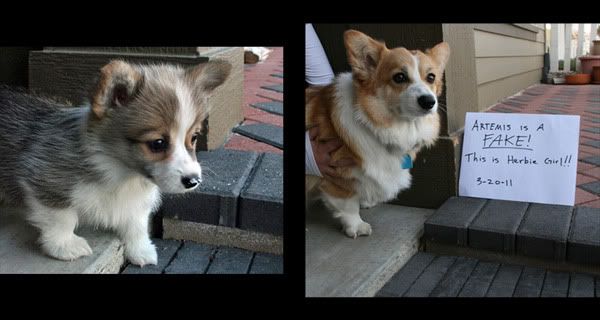 I've notified the admins, would love to have credit given where credit is due, and have "Artemis" removed from today's page. I would gladly submit additional photos of Herbie Girl, because she really is pretty darn cute, and would love to be featured as the Puppy of the Day in the future!
Without further ado, here is the REAL Herbie Girl.