Hello, my family and I are full of questions, concerns and just trying to really understand the world of puppies! We have a 10 year old outdoor retriever, lab, chow mix, that we really did not bring home until he was well over 3 years old and already calm and trained. Having a puppy is completely different.
We adopted Cash just 2 weeks ago from the Humane Society. We have been searching high and low at all local shelters & rescue agencies for that one special addition to our family for several months. When my 4 children and I spotted Cash we instantly feel in love. We had no idea his story, his breed, age or anything we just knew he was the one for us.
After we knew he was the one, I asked as many questions as I could. The Humane Society told us he was about 10 weeks old, that he had just arrived, his sister was up for adoption as well. That the previous owner had a full breed Landseer, she ended up surprisingly pregnant. He did not want the pups. Cash was covered in fleas, scabs had worms and all the great puppy stuff. When we visited the vet he told us this pup was not 10 weeks but merely 8 tops. He already weighed 15.7 lbs and besides the obvious was in great health.
We read up on the Landseer breed (even though we aren't 100% sure of the background story) and decided to have Cash as an indoor dog since it suits his breed best. Now for all the fun potty training, crate training and so on. He has done amazing!
Can't wait to learn more from this site and meet other puppy and dog owners! Thanks in advanced!
First day home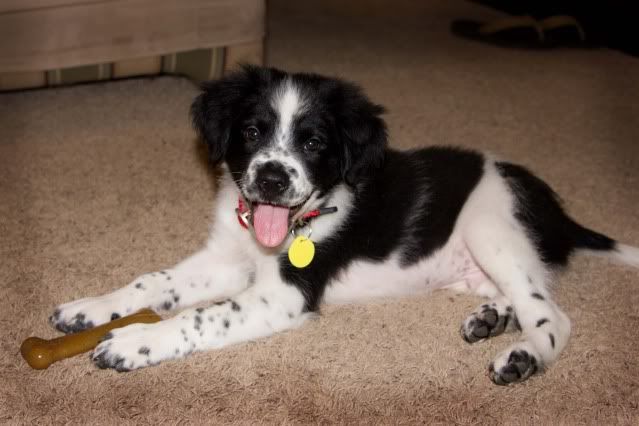 Melissa