I commented in Misc Idle Chit Chat about this, but here is the proper introduction!
I know I haven't been around the site for a
long
time but I thought it was definitely time to pop back in to tell you guys that my family has finally got a puppy! Like I said, it's at my dad's house, which is where I live only partially, but it's still a huge deal for me and the most exciting thing that has happened to me in a long time
His name is Iolo (pronounced Yollow, like follow), and we only just picked him up yesterday. He is an 8-week-old German Wirehaired Pointer, though he is very smooth-haired for his breed, especially in comparison to his brother and sister who were a lot wirier and hairier already when we saw them - but his beard will come in time!
(Apparently he is 1/8 Labrador on his mother's side.)
To be honest he has been an angel so far compared to what he could have been. He is the most sweet-tempered and lovely thing, so very, very chilled out about everything. Nothing has fazed him - meeting strangers, being surrounded by children, being touched and played with constantly. The car ride home from the breeder was almost 2 hours long and he barely complained. He whined a little bit as he sat on my stepmum's lap but most of the time was content to look out of the window and then he just curled up and went to sleep. He already seems well on the way with house-training, and has had only one or two accidents and mostly chooses of his own accord to go outside in to the garden. Though I wasn't at my dad's for his first night, apparently he had almost no problems, he slept alone in his crate (his first time sleeping alone), woke up once in the night to go outside, and then got up very early in the morning. He is a little rambunctious as can be expected from a puppy, but he doesn't jump up quite as badly I don't think as his brother and sister did. He is a little overwhelming for my 4-year-old sister sometimes when he bounds towards her and tries to play - as he is a big fella for his age, with great big paws - and of course he wants to chew everything, including her clothing! That's probably what's going to take the most work with him as he's very inquisitive and he'll get into anything he can find, but thankfully he has taken kindly to his squeaky toy pig, his chew rope, and other toys! I practised teaching him to sit for a while when I was visiting him, too, and he completely melted my heart when he just came over to me, collapsed in my lap and fell asleep. To get him used to sleeping in his bed alone instead of on someone's lap, while he was sleeping on my crossed legs I shuffled my way inch by inch towards his crate and then slowly moved him in there without waking him, and since then he has decided it is quite an adequate bed!
Sorry I'm talking so much about him but I am naturally so excited and he is just so gorgeous, I absolutely love him to pieces! I am looking forward to the rest of the puppy adventures we'll surely have with him! I am besotted
This was a photo I got sent of Iolo at around 5 weeks!
Chilled as can be on the car ride home!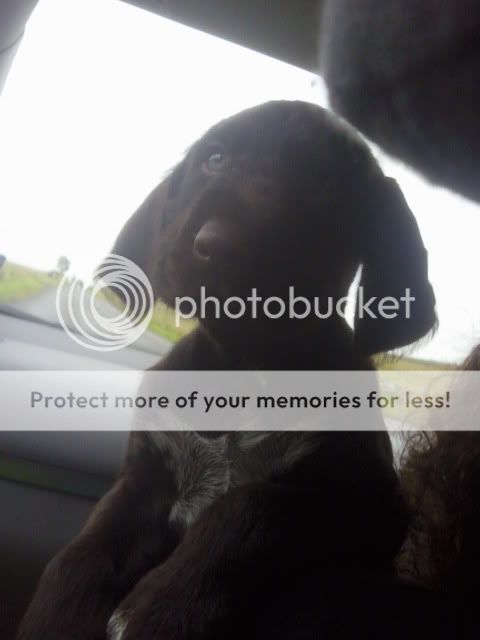 You can see the little frayed hairy edges he's beginning to grow on his ears.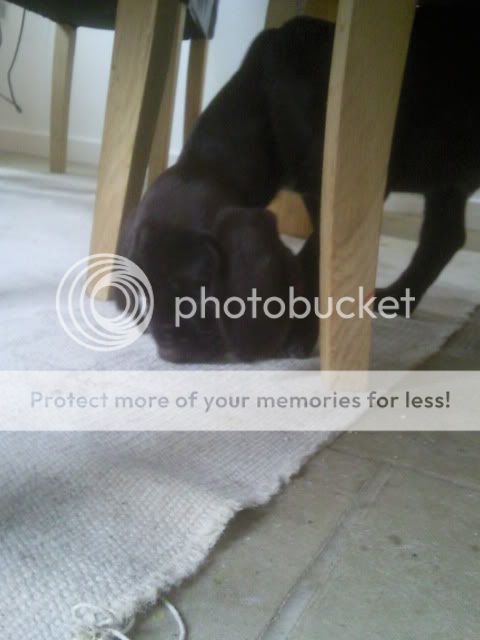 Exploring his new home!
After his exploits in the garden.
Having a chew on his rawhide.
He decided he'd come onto my lap to have a chew of his squeaky pig
Falling asleep in my sister's lap!