Okay, so I'm not quite sure of my dog's breed. The papers from the Humane Society that I got her from said that she is a border collie/lab mix but the papers from the shelter that she was originally at says that she's a border collie/shepherd mix.
I do see a lot of similarities between her and other border collie/labs except that she has pointed ears rather than floppy. I noticed in some pictures that I've found that border collie/shepherd mixes have pointed ears. Most of them I see don't look much like her at all but I did find some pictures on Google that look just like her and they were labelled as border collie/shepherds.
These two look just like her: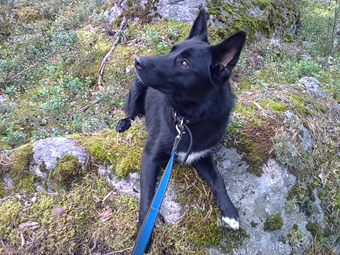 I feel like she'll possibly look like either of these when she's older?:
I asked my dog's trainer what he thinks and he said he does see border collie but he doesn't see lab or shepherd at all so now I have absolutely no idea what she is.
So, I'd like to get some second opinions.
She is roughly 5 months old. Also, the tip of one ear is these pictures is still slightly down but now it's completely up.