As you regulars already know, I'm interested in owning a Border Terrier in the future. I've been talking to a breeder that I may go to one day to get another baby
Well we've been talking, and here's the conversation that we've been having so far.
ME
My name is Michelle Piper, And in a few years time I'm thinking of owning a Border Terrier as a companion and as a friend for my current dog. My dogs name is Stewie and he's a Chihuahua/Jack Russell Terrier mix. I'm located in Exeter, Ontario and I just want to learn more your Border Terriers.
Thanks,
Julie
Hi Michelle,
I currently have one male and one female Border. I am planning a litter this spring/summer, breeding my bitch, Spree, to a male in Florida. This will be my first litter and going forward I only have plans for about one litter a year. Spree is a Cdn/American Champion and she has passed all of the health clearances our Breed Club recommends (heart, eyes, hips and knees). Cody, my male, is neutered so I do not show him nor have I used him at stud. We've done agility and rally with him.
My husband and I treat our dogs very much as pets, they sleep in our bed and cuddle with us on the couch. I've been in the breed for 5 years and have owned 3 Borders in that time.
Can you tell me more about yourself - who lives in your house, what do you like about Borders and why do you want one? Are you familiar with their grooming requirements?
Julie
Me
Well I'm unemployed at the moment, but hoping to get a job shortly. I'm planning to save up for college, as I want to be a video editor. Then once I can (Hopefully in a few years) I'll have enough income to move out into a decent place with a fenced yard. Then once I'm stabled, I want to add another dog to my family. Currently I'm living with my parents, and I have a dog. His name is Stewie, almost a year old. and is a Chihuahua/Jack Russell Terrier mix. He loves other dogs, so I'm hoping to get him a friend in the future.
I want a Border Terrier because of their energy and temperament. I haven't met one in person, but I've done a lot of research, and they seem like great dogs! I love terriers because their just so amusing to watch. I have a niece (4) and 2 nephews (6) (5 months) and I see them a lot, and I've read that they get along great with children. I'm thinking of starting agility classes with Stewie once we move out to London where they have that available. or maybe fly ball. We're practicing Jumps right now. and if I get a border, he'll go to socialization classes, obedience, and maybe even agility.
With grooming you have to hand strip their coat due to the fact that they have a double coat. I think its about every 4-6 months you have to do it? And if you want a groomer to do it, you have to make sure their famillar with the breed. You can't use scissors because then that would ruin the coat.
I'd love to hear more about your borders! And what are your prices, pedigree... etc.
Julie
Hi Michelle,
Sorry for the delay in getting back to you. It does sound like you've done a lot of research.
My puppy price is $1000. Spree was whelped in Michigan, out a bitch named Ristle Chewbarrka (Chewy) and a dog named Maustrappes Sunday Driver (Winston); I attached her pedigree. Her litter was a 'repeat breeding', because the first breeding produced such lovely pups, they decided to repeat it. Two of the dogs out of the first litter that they kept and showed, Morgan and Cubby, I thought were very lovely. So when I heard Spree, the pick bitch from the repeat litter was available, I jumped at the chance. It was a very good move for me, she has done very well in the show ring (winning our Border Terrier Club of Ontario Specialty last year) and has a nice temperament. She's passed all of her health tests with flying colours, scoring an "excellent" on her hip rating, the best you can get.
I think you will really like agility, we always enjoyed it a lot with Cody. We never competed in agility but we did do Rally, he got his Rally Novice title last year. It was actually pretty easy and in novice they're still on leash, so it's not as intimidating - no one wants to be chasing their loose dog through a crowded arena!
I also attached a pic for you, Cody is on the left, Spree is on the right.
Julie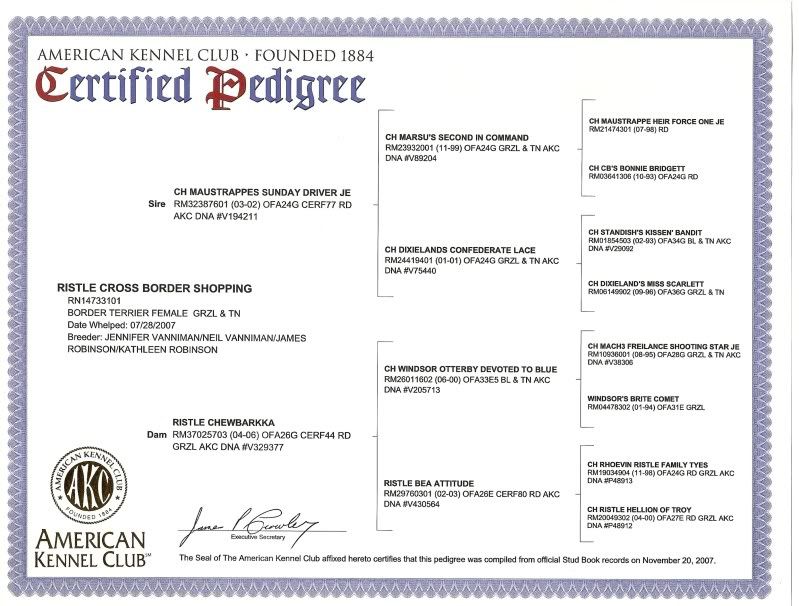 This thread will grow while more developes